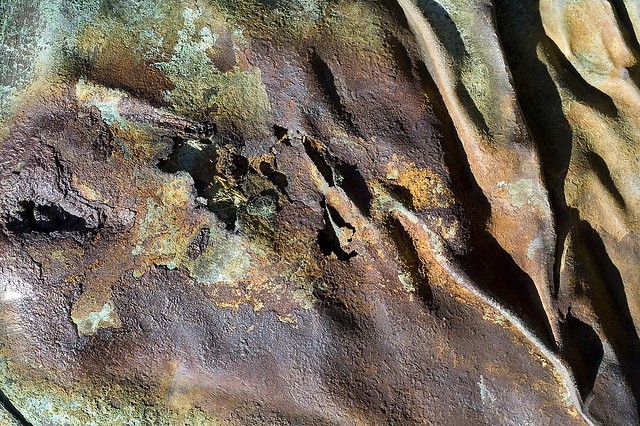 Patina. It's beautiful, but it isn't instant. It develops over time, with age. You have to wait for it. It's coveted by some architects, designers, and artists. And every patina is unique…a pattern all its own created by sun and weather and time…the gentle and the harsh of all of it.
And what does this have to do with anything? Stay with me here.
Some time ago I heard a friend make a crack about age. A lovely friend, who is fit and beautiful and who rubs grace onto everyone she comes into contact with. Her sweet spirit is the first thing you notice about her. She's more energetic than most I know, especially as she's raising four children and juggling a career. So her comment caught me off guard and honestly made me laugh out loud. As I drove away, I couldn't help but think that she, and many other women I know, are earning their age – in a really good way.
And, as it often does, my heart turned to adoption and the parenting journey it has put me on.
I am earning my patina. Through the gentle and the harsh of all of it.
It's the joy and the laughter that gradually become laugh lines. It's the healed bruises from wrestling with my son. It's the wisdom that comes from walking with him through the darkness of questions about his history and in the light of his present. It's the gentleness that developed as I held him when he grieved. It's the knowledge I seek to answer questions that will come in the future.
For every heartache I soothe, every scraped knee that I clean, and every tear that I wipe…for every midnight I spend rocking and every dream that I settle…for every laugh I join in, every hug I return, and every new thing we learn together…and as he grows, for every victory I cheer him on to and every hurt I will counsel him through…for every moment I spend on my knees, and for all the things that move me with gratitude, I am earning my patina.
It's not unique to the adoptive parent. I see it in women all around me. I'm grateful for it. It only gets better for those who embrace the journey.
It's beautiful, but it isn't instant. It develops over time. I've had to wait for it. It's unique…a thing all its own. And it's valuable beyond measure. Youth is lovely, make no mistake about it. But patina? Patina is breath taking.